Home

/

PURELL TFX DISPENSER & REFILL PACKAGE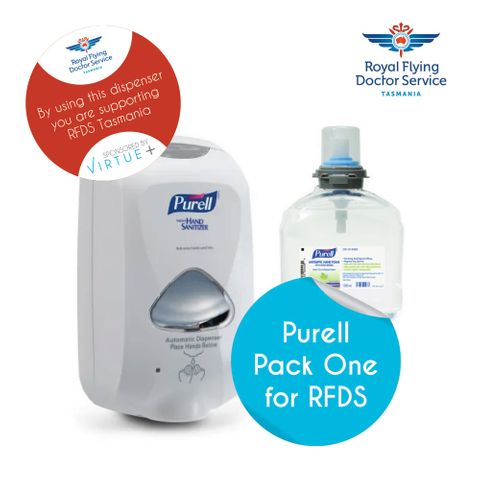 PURELL TFX DISPENSER & REFILL PACKAGE
$53.95
Description
Description
The TFX Touch Free Dispenser is touch-free and trouble free. It features a large sight window for at-a-glance monitoring. The Hand Sanitiser Foam contains 72% v/v absolute ethanol and kills more than 99.99% of most germs. It also contains skin conditioners and is made with 100% naturally renewable ethanol. This biodegradable formula is certified by Ecospecifier Global GreenTag™. The pod refill is sanitary sealed to help prevent contamination. Together the dispenser and a pod offer an actuation per shot of 1.1ml, which allows for 1090 shots per refill pod.

By purchasing this Purell pack you are helping to support Royal Flying Doctor Service Tasmania.
Virtue Plus will be donating 25¢ from each refill pod sold, directly to the Royal Flying Doctor Service Tasmania. To help transform the lives of those who are disadvantaged because they live in rural and remote area and have difficulty accessing or affording health services in the cities. While some of the charity's operating costs are covered by State and Federal Government funding, it would not be viable without donations from individuals, businesses and community fundraising initiatives plus the support from a dedicated team of volunteers.